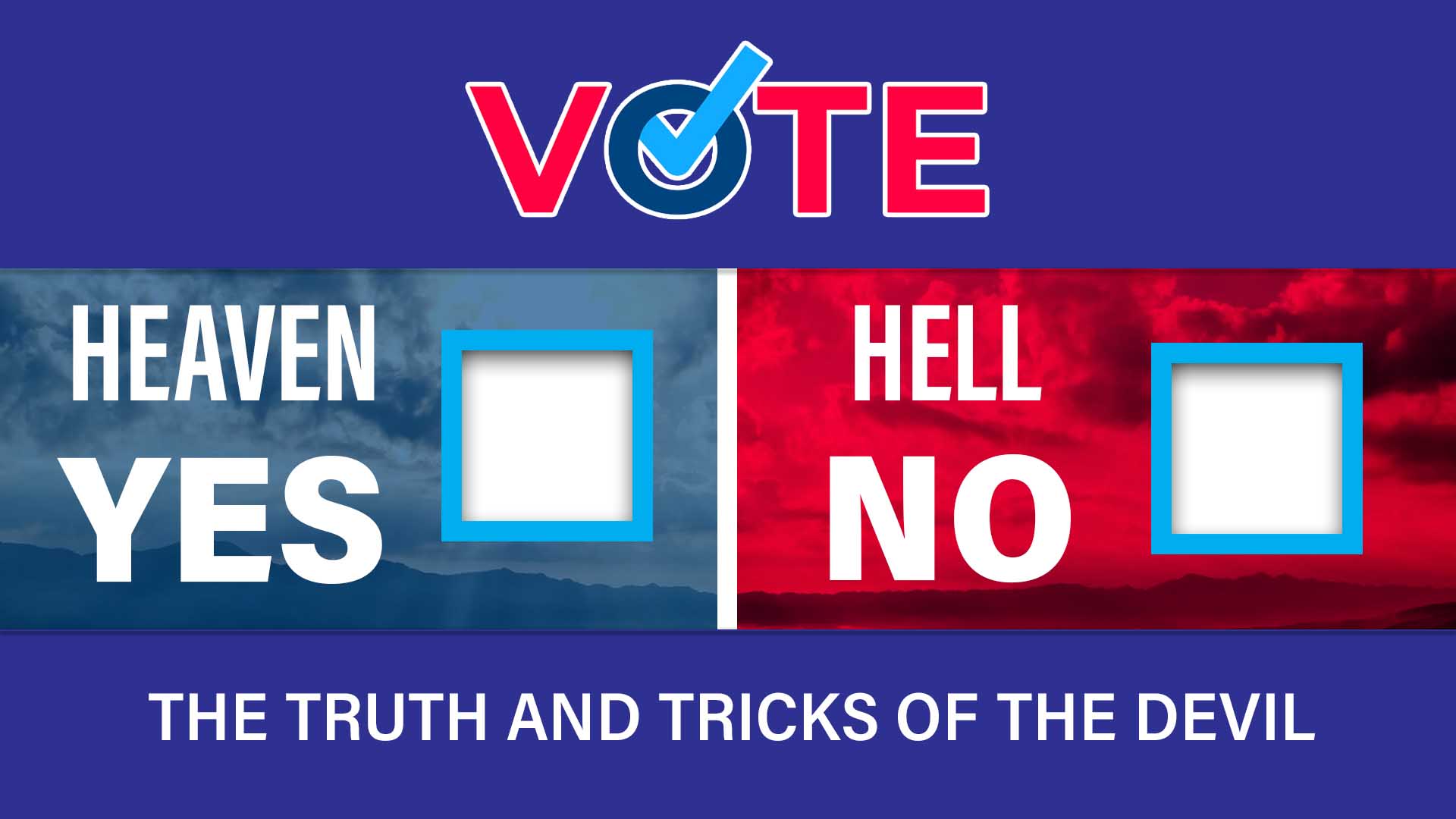 Heaven Yes!

Hell

 no!

 

The Truths and Tricks of the Devil | Religion instead of Relationship 

 
Religion – Wants to show and tell what they know through actions. 
Relationship – Wants to show and tell you what Jesus has done. 
The Danger of Religion (Matthew 5:20, NKJV; 1 Corinthians 8:1, NKJV; Matthew 9:9-13, CEV; Matthew 12:10-14, NKJV) 
Unless your righteousness exceeds the righteousness of scribes and Pharisees, you will by no means enter in the Kingdom of Heaven. These Scribes and Pharisees tithed, many could quote the first 10 books of the Bible, and were very religious and learned men. 
Righteous: self-righteous – they did not feel they needed Jesus. 
They were so knowledgeable of God's Word, yet so far from Him. (Romans 1:18-32, CEV) 
The Pharisees thought they knew everything about God. They did everything they could do to crush the Truth because they wanted to be worshipped instead of worshipping God. No one has an excuse for not believing in God. When we don't honor God, and thank Him for all He has done, we are in danger of being useless, stupid, and have darkened minds. 
Ways to honor God or dishonor God. (Psalm 15:4, NCV; Psalm 69:30, NCV; Proverbs 3:9-10, NCV; Exodus 20:9-10, NCV; Hebrews 10:24-25, CEV; Exodus 20:12, NCV; Matthew 15;4, NCV; Leviticus 19:32, TEV; Psalm 37:34, NCV; John 5:23, NCV; 1 Corinthians 6:20, NCV) 
We honor God when we honor those who honor God. We honor God when we sing and give thanks to God. We honor God when we tithe and give God the first tenth of our income. We honor God when we come to church on Sunday and make it a special day for the Lord. We honor God by honoring our parents. We honor God by honoring the elderly. We honor God when we wait for Him, when we honor His Son Jesus, and when we honor our own bodies. 
How to abide in our relationship with God. (John 14:6, NKJV; John 15:5, NKJV; John 15:7-8, NKJV; Joshua 1:8-9, NKJV) 
Your relationship with God must start with Jesus. Our relationship continues and we abide in Him. The right relationship with Jesus brings much fruit…Love, Joy, Peace. We abide by learning and obeying the Word.