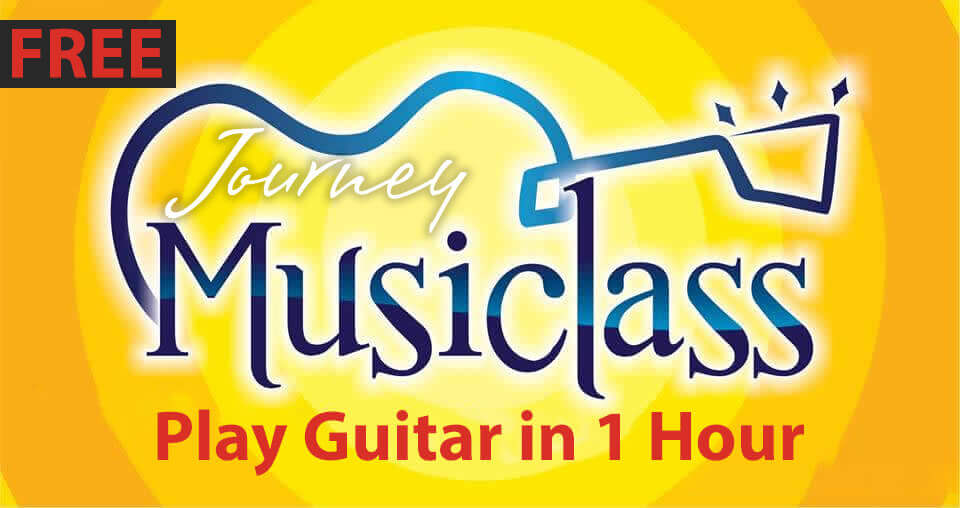 Journey MusiClass 101
Play Guitar in One Hour
*Free for Beginners Only
WHO: *Two age groups:
Youth Class (Ages 8-15) –  Boys & Girls ages 8 thru 15 years old (1 hr includes Q & A)
Adult Class (Ages 16+) –  Men and Women ages 16 years and above  (1 hr includes Q & A)
Instructor:
Paul
 Bordelon (Musician *Instructor *Producer *Arranger *Performer *Songwriter for  40+ years) 
WHAT
Intro to playing guitar with just three easy chords.  With this simple 3 chord pattern, anyone can play literally thousand of familiar songs.  We will begin with three tunes that we  all have heard at some point : "Amazing Grace" "Happy Birthday"  and "When the Saints Go Marching In". Then – it is easy to expand from there.  Each class will start with a very simple "Musical Ear Test". We encourage parents & students of all ages to participate in this basic musical aptitude test.  
WHEN
Youth Class (Ages 8-15):
Monday, September 9th, 6PM-7PM
Adult Class (Ages 16+):
Monday September 16th, 6PM-7PM
WHERE
Journey Church – Alexandria Campus
1898 MacArthur Dr, Alexandria, LA 71301
WHY
Extensive studies have proven that anyone who plays a musical instrument excels in Math, Science, and Social Studies not to mention the Leadership, Teamwork and Social benefits. The art of Music is one of Gods Great Gifts to all of us.  Just listening to music is a joy however, playing music live is a much deeper positive experience.
Attention Beginner:
*Grab a Guitar – Play Amazing Grace in 30 minutes or less* 
Bring an acoustic/box guitar ( no electrics ) to the free one hour class. A sharpened pencil or pen and Scratch paper is also required.
Must be "playable" (no toys please)  have all 6 strings (no 12 strings) Completely pre-tuned to A440 tuning**  (Please view YouTube to view instructions on "How To Tune A Guitar"). It is imperative that the instruments are completely "In-Tune" Prior to the class. Contact the instructor if you need any assistance a minimum of 3 days prior to the scheduled class. ** There are an abundance of free tuners for your cell/tablet available for android and apple products.
Set aside one hour for free class that will teach basics on three chords =  1  4  5  **.
Question and Answer will be available last 15 minutes.
*Feel free to come early, 15 minutes prior to start time,  to hear a Live Performance by the instructor.
For any questions or pre-evaluation of guitar play-ability feel free to contact instructor:
Paul
 Bordelon 
Cell/VM/Text: 318-447-7222   
Email:
paul

.boudin@yahoo.com
FaceBook Messenger:
Paul
 Boudin