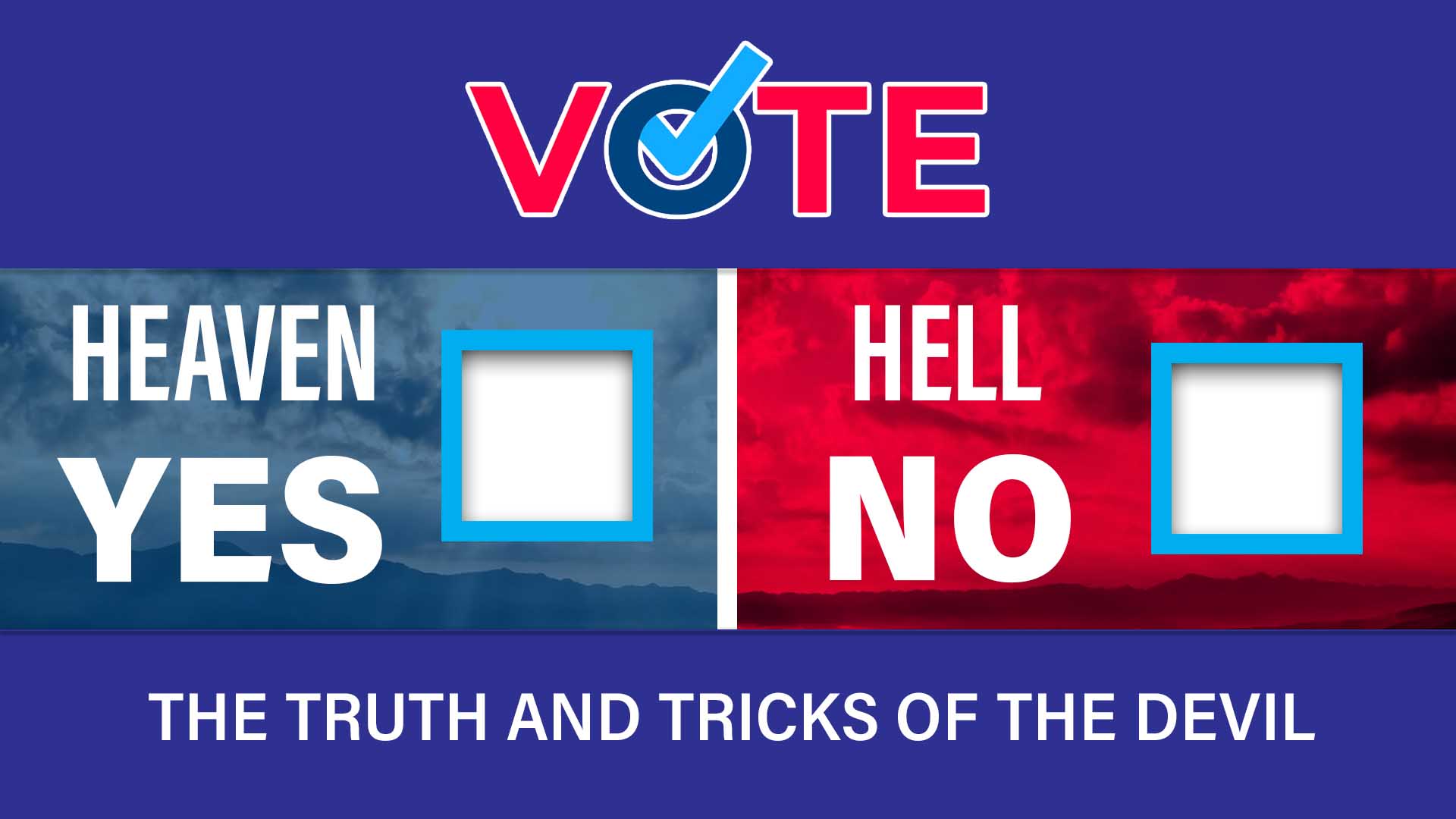 Heaven Yes!

Hell

 no!

 

The Truths and Tricks of the Devil |

Satan's Greatest Tricks 
That Religion is the same as Relationship. (John 14:6, NKJV; Romans 10:9, NKJV) 
He believes in God, but does he believe the only way to God is through the death, burial, and resurrection of Jesus Christ? 
That the Bible is one of God's many words. (John 10:10, NKJV; 2 Timothy 3:16, NKJV; Isaiah 40:8, NKJV; John 1:1, NKJV; 1 Corinthians 14:33, NKJV; John 13:34-35, NKJV) 
The Bible is the Ultimate Authority. When we don't have the Bible as the ultimate authority, we often think we are the authority. 
We have to believe in the virgin birth, Jesus lived a sinless life and dies for our sins, that the devil is real, that we have sinned, that heaven and hell are real, and God sent His Son where we could have life and live it more abundantly. 
God's Word is not only the Ultimate Authority; it will never leave us. 
One of the greatest problems in America today is that so many people want to be the authority on so many things that only God can. Satan is having his way and will in so many areas today because there is no Ultimate Authority. If you really want to bring peace out of chaos, simply allow God's Word to be the Ultimate Authority. 
Racial prejudice. (1 John 2:11, NIV; Galatians 5:14-15, NIV; James 2:9, TEV; 1 John 1:9, NIV) 
Racial prejudice questions God's creation. Racial prejudice is a sign of ignorance. Racial prejudice disobeys the Great Commandment. Racial prejudice is a serious sin. Racism is a problem of sin, not skin. 
That God's way is not the best way. (Genesis 2:15-18, NKJV; Matthew 5:22, NKJV; Matthew 18:15, NKJV; Matthew 5:43-44, NKJV) 
God told Adam and Eve they could eat of any tree but one. Like Adam and Eve, we often think we are smarter than God or that God's way is not the best way. Do you think you're smarter than God? 
The Good way is okay instead of God's way. (Romans 12:4-5, NKJV) 
Too many people are settling for okay instead of best. For example, it's okay to come to church and not be the church. When you don't do your part in the family, it not only hurts you but it hurts the church family as well. You never realize how much you're missing until you find your part of the body. 
That Hell is not Real. (Luke 16:19-31, CEV) 
Hell is real, hell is hot, and there is suffering. In hell, you have feelings and memories. In hell, you don't want anyone else coming or going there. 
That God is not in Control.