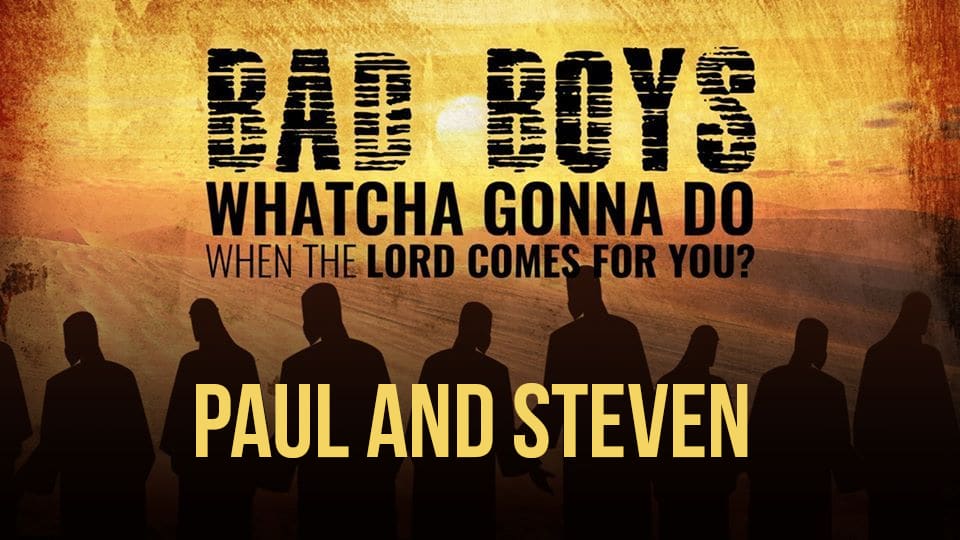 Bad Boys, Bad Boys What You Gonna Do When The Lord Comes Paul & Steven
Bad Boys Paul and StevenSteven's greatest witness and influence was the way he died! Paul's greatest influence was his conversion and the way he lived afterward.
When two bad boys disagree, one might die. (Acts 7:51-60, NKJV)
Blaspheming the HolySpirit–if you resist the Holy Spirit you will not be forgiven, you will not have eternal life. (Matthew 12:31, NKJV) You can know the Word, and not know the Lord. Religion without a relationship with Jesus is dangerous. When God's Word is preached theHoly Spirit is working to encourage and convict. (Hebrews 4:12, NKJV)
Winning in the Christian view and winning in the eyes of the world are not the same.
Who wins the battle will depend on how your perspective–Christian point of view or a non-Christian point of view. (John 10:10, NKJV) You can have Peace and Pain at the same time. Saved + Dependence on Christ + Representing Christ = Peace in any situation. Being in the right relationship with God does not exempt us from problems and pain. Religion battle and racial battle have always gone on and always will until Jesus returns. The only lasting cure for racism is relationship; relationships with each other and relationship with God. (Galatians 3:28-29, NKJV) If you are a Christian, there is only one-way God's Way. (Proverbs31:8-9, TEV; Psalm 37:28, NKJV; Proverbs 21:3, KJV; Romans12:17-21, NKJV) Don't be surprised by problems and attacks. (1 Peter4:12-14, CEV; 1Peter 4:12, KJV)
Important insight to remember.
Don't be surprised when the enemy sends people into your life to test and try you. The enemy's purpose is to discourage, defeat, and depart from God's protection, provision, and PEACE. Fire refines, defines, and removes impurities to improve personality and spirituality.