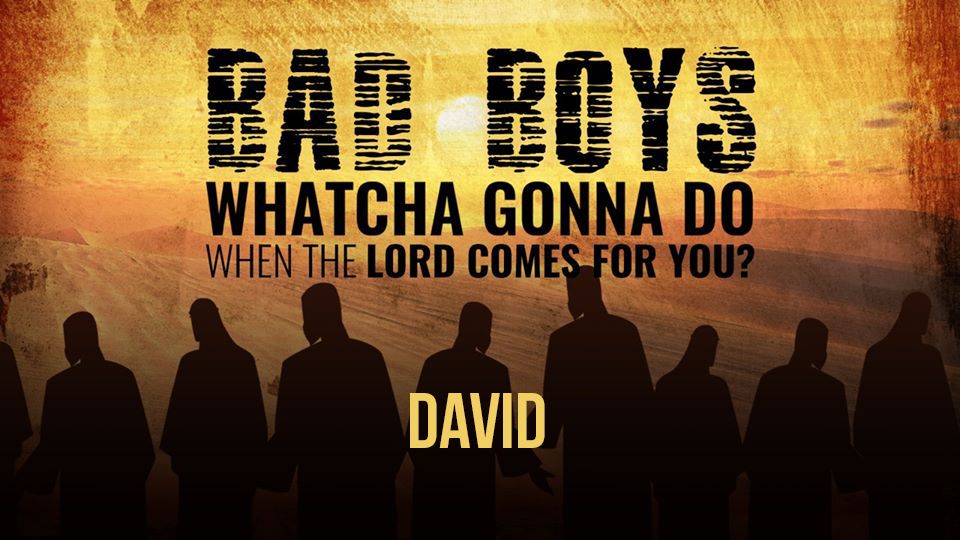 Bad Boys, Bad Boys What You Gonna Do When The Lord Comes For You? | David
Acts 13:22, NKJV
When we do the will of God we have the heart of God.
Rejection can be repeated: (Same Sin) (1 Samuel 17:28-29, CEV; 1Samuel 17:26, CEV; 1 Samuel 17:24, CEV; 1 Samuel 17:31-33, CEV)
Rejection if not dealt with will lead to repeating the same sins. Rejection dealt with properly can lead to rejoicing. Generational curses if not broken will be repeated. (Exodus 20:4-6, NKJV)
David the Bad Boy (1 Samuel 17:41-51, CEV)
We need to be careful not to rely on our own strength, but the power and strength of God. Allow God's Word to help us see and control how we feel instead of others. God gives us victory where He will get the honor and glory.d.Don't run from our battles. Defeat the enemy standing on Jesus our Rock and slinging the word at the enemy, He must fall.
Rejection can lead to great release and recovery. (Psalm 27:10, NKJV; Galatians 3:13-14, NKJV)
The root of all rejection is misplaced identity. We must find our identity in Christ; base our identity on what God's Word says about us not what others say. (Proverbs 29:25, MSG) The key to overcoming rejection is to solve your identity problem. (Psalm118:8, NKJV; Psalm 139:14, NKJV; 1 Corinthians 2:5, NKJV) Jesus came to set us free. (GalatiansJohn 8:36, NKJV; 1 John 3:8-9, NKJV) We get regened when we get saved! Read God's Word and activate the power of God.